Gold Floral Mickey Mouse Ears
Weekly Rental $13
Item valued at $53
Metallic gold wire mickey mouse ears. Worn once as part of a Lumiere disneybound at Magic Kingdom and once as part of a C3-P0 disneybound at Hollywood studios.
Owned by Kelly Carnes
Cheverly, MD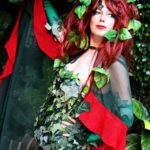 Owned by:

Kelly Carnes
Costume Fit

Construction Notes

Construction Notes

The wire ears can get bent so take care to keep/return them to the right shape.